This is the compensation plan for referring our eCommerce Web Design package, or when anyone in your downline refers our eCommerce Web Design package. This may be truly the most amazing FREE eCommerce Web Design referral program ever offered. It's possible to generate millions of dollars in commissions referring just this one service we provide.
CLICK IMAGE FOR FULL DISPLAY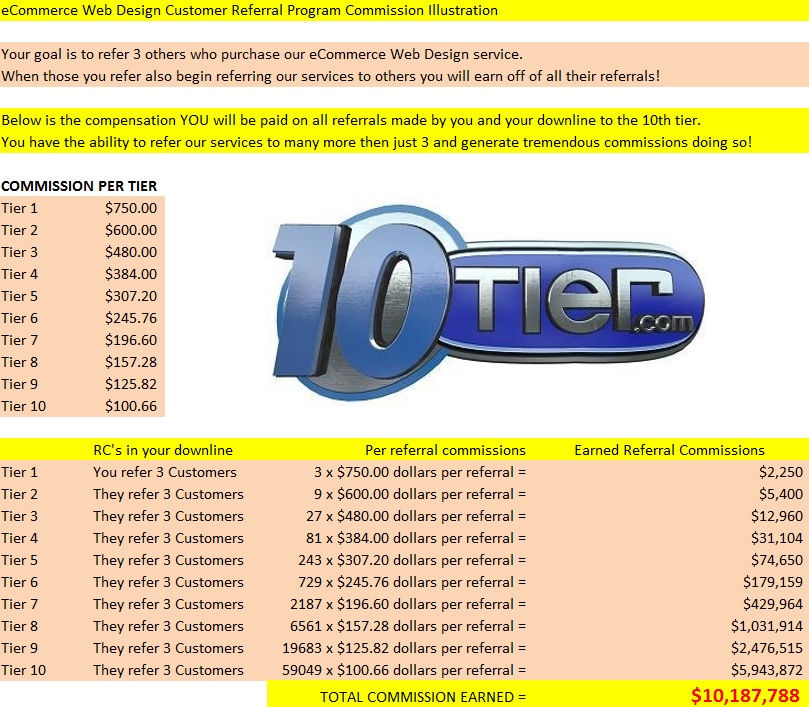 We cannot guarantee you that you will make millions of dollars referring our eCommerce Web Design service because we don't know you, don't know your desire to want to succeed, ability to take action, if you're a procrastinator, etc. What we can guarantee is that this is virtually one of the greatest eCommerce Web Design customer referral programs ever created!
This commission illustration is based on you referring 3 people, and everyone doing the same to the 10th tier. But what if over the course of several years you referred 10, 50, 100? And what if a few people in your downline have a tremendous desire to achieve financial freedom, and realize that the 10Tier.com customer referral program provides the referral commission system that can provide just that?
AND THIS IS JUST ONE SERVICE THAT YOU CAN EARN MILLIONS OF DOLLARS IN REFERRAL COMMISSION OFF OF!
If you already operate a digital marketing agency, or purchase our eBusiness to start one in your area, you can add our services to yours and build a tremendously successful digital marketing agency that can provide you the ability to generate millions of dollars in residual income.