Unlocking Infinite Earnings: The Online Business Referral Program!
In a world driven by digital transformation, the scope for online businesses is virtually limitless. With the global economy leaning more towards e-commerce, owning an online business has never been more lucrative. But what if you could not only own your online business but also make substantial money by simply referring others to join this thriving online world? Welcome to the world of the Online Business Referral Program, a revolutionary opportunity with tremendous earning potential.
At 10Tier, we're excited to introduce you to our exceptional Online Business Referral Program. Our program is designed to empower individuals like you to tap into the ever-expanding online business ecosystem and earn substantial commissions by referring our eBusiness system. This page will delve into the many facets of our program, from the unlimited potential customers you can refer to the enticing compensation plan. We'll explain how anyone, regardless of their current financial situation, can get started and watch their income grow.
But first lets give you an idea of the kind of income that is available to be made online if you take action, and help others do the same!
eBusiness Compensation Plan
This is the Compensation Plan on how we will pay you for all the customers you refer or those made by anyone in your downline who purchase an eBusiness. Our eBusiness system provides you the website, hosting, and marketing system to help you start and grow a digital marketing business that gives you the ability to generate life altering income online! When you purchase our eBusiness system you are eligible to join our FREE 10 Tier residual income Customer Referral Program.
As an example how you can make money referring our services, the compensation plan below outlines how you would be paid for every referral you make, and then how you continue to earn money for every referral made by those you refer, 10 Tiers / levels deep.
Remember: For every referral you make we pay you residual commissions for the lifetime of the account.
CLICK IMAGE FOR FULL DISPLAY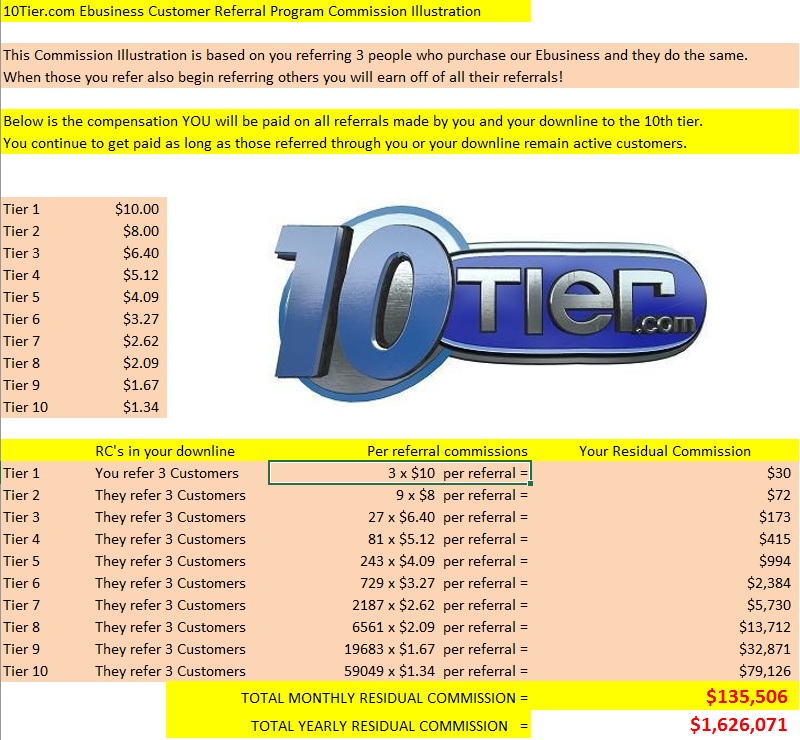 This is only an example for illustration purposes as we cannot predict the number of people you will actually refer. This example is based upon you referring only 3 people who also purchase an eBusiness and then also do the same. If you were to make dozens of referrals you earnings could be substantially more then outlined on example compensation model above.
Starting a Digital Marketing Agency
Our eBusiness includes everything you need to start and grow a business online.
Here is what you get when you purchase a 10Tier.com eBusiness:
Your very own website with blogging system
Managed WordPress Hosting included ($120 dollar value per year)
Online contact form integration
Integration of your Google Adsense and affiliate programs like Amazon, etc for you
Access to networking events
The ability to refer our services and build a huge residual income
Access to our referring customer back office marketing & business center
AND a $250 dollar advertising voucher to be used across our Ad Network
The Online Business Revolution
Before we dive into the details of our referral program, let's first understand the incredible shift in the business landscape towards online ventures. The rise of the internet and digital technologies has transformed the way we live, work, and shop. It's created a marketplace where virtually anyone can start their own business and reach customers around the world. With a laptop and an internet connection, the possibilities are endless.
E-commerce, dropshipping, affiliate marketing, and various other online business models have become not just supplementary sources of income but primary livelihoods for countless individuals. With minimal overhead, global reach, and the ability to work from anywhere, it's no wonder that people are drawn to the idea of owning an online business.
The Power of Referral Marketing
Now, imagine if you could turn your enthusiasm for online business into a source of income. That's precisely what the Online Business Referral Program at 10Tier offers. Referral marketing, or affiliate marketing, is a potent concept where you promote a product or service to your network and receive a commission for every successful sale. In our case, you refer people to our eBusiness system, and for each successful referral, you earn money.
This referral approach is a win-win for everyone involved. The referred individuals get the opportunity to start their own online business, and you receive a commission for your referral. As the online business world continues to grow, your income potential through referrals is virtually unlimited.
Why 10Tier's Referral Program Stands Out
You might be wondering, "Why choose 10Tier's Online Business Referral Program?" The answer lies in the unique features and advantages that set us apart from the competition:
1. Universal Appeal
The foundation of our referral program's success lies in the universal appeal of owning an online business. Virtually anyone can benefit from the opportunity to become an online entrepreneur, regardless of their background, location, or experience. This universal appeal means you have a broad and diverse audience to refer to, making it one of the easiest affiliate programs to generate income.
2. Multi-Tier Referral System
At 10Tier, we take the concept of referral marketing a step further with our multi-tier referral system. This means you not only earn commissions from your direct referrals but also from referrals made by the people you introduced to the program. In other words, you can build a network of referrers, and as they refer others, you earn commissions from their referrals too. The potential for exponential earnings is enormous.
3. Generous Compensation Plan
Our compensation plan is designed to reward you handsomely for your efforts. When your referrals join our eBusiness system and make sales, you earn commissions based on the sales they generate. With the multi-tier system, your earnings can grow rapidly, turning your part-time effort into a substantial income stream.
4. Accessible to Everyone
We believe in providing equal opportunities for everyone, regardless of their current financial situation. You don't need to be a customer of 10Tier to join our referral program. Even if you're homeless or struggling with limited financial resources, you can sign up and start referring our services. Once you start making money, you can choose to become a customer, which is a testament to our commitment to helping individuals improve their lives.
Unlocking the Compensation Plan
Now, let's take a closer look at the compensation plan that makes our Online Business Referral Program such a lucrative opportunity. Here's how it works:
1. Direct Commissions
For every person you refer to our eBusiness system who makes a purchase, you earn a direct commission. The commission percentage can vary depending on the products or services they choose, but it's a significant source of income, especially as your referrals grow their businesses.
2. Multi-Tier Commissions
As mentioned earlier, our multi-tier system takes your earning potential to a whole new level. When your direct referrals bring in new customers, you earn commissions on their sales as well. This creates a pyramid-like structure where your network can extend down multiple levels, increasing your income exponentially.
3. Residual Income
In addition to direct and multi-tier commissions, you can also earn residual income. This means that as long as your referrals continue to use our eBusiness system, you'll receive commissions on their recurring payments. This can lead to a stable and continuous source of income over time.
4. Bonuses and Incentives
To keep things exciting and rewarding, we offer bonuses and incentives to our top performers. Achieving certain milestones or reaching specific sales targets can earn you additional bonuses, which can significantly boost your earnings.
Getting Started with 10Tier
Ready to start your journey towards unlimited earning potential with the 10Tier Online Business Referral Program? Here's how you can get started:
1. Visit 10Tier.com
The first step is to visit our website, 10Tier.com. There, you'll find all the information you need about our eBusiness system, the referral program, and the products and services we offer. It's essential to educate yourself about what we provide to effectively promote it to potential customers.
2. Sign Up
To become a part of our referral program, you need to sign up. This process is simple and straightforward. We collect basic information from you, and within minutes, you'll have your own unique referral link to start sharing with others.
3. Start Referring
With your referral link in hand, it's time to start promoting our eBusiness system. Share it with your friends, family, social media followers, or anyone you think might benefit from owning their online business. You can use various marketing methods, such as content creation, email marketing, or social media advertising, to reach a broader audience.
4. Watch Your Income Grow
As your referrals join our program and make sales, your income will start to grow. Remember that the multi-tier system means your income can increase exponentially as your network expands. The more effort you put into referring and helping your direct referrals succeed, the more you'll earn.
5. Become a Customer
Even if you start with no financial resources, the money you earn from referrals can be used to become a customer of our eBusiness system. This means you can also enjoy the benefits of owning your online business and further expand your income potential.
The Bottom Line
The Online Business Referral Program at 10Tier opens up a world of opportunity for individuals looking to harness the power of the online business revolution. With universal appeal, a multi-tier referral system, and a generous compensation plan, it's one of the easiest and most lucrative affiliate programs available. The best part is that it's accessible to everyone, regardless of their current financial situation.
As you embark on your journey with us, you'll not only be earning commissions but also playing a role in helping others transform their lives by owning an online business. The potential is limitless, and your success depends on your dedication and effort. So, if you're ready to take the first step towards financial independence and unlock infinite earning potential, visit 10Tier.com and join our Online Business Referral Program today.
Best Online Income Opportunity
Many online income opportunities come and go, and most income opportunities online are setup to make those at the top rich with little chance of sharing the wealth with you. At 10Tier.com we designed our Customer Referral Program to provide a truly amazing residual income opportunity that will give you the chance to generate some life altering income online.
Providing amazing website design, SEO, Social Media Marketing, and digital marketing services since 2004 shows we got skin in the game and we're not going anywhere. Your success is extremely important to us, as the more you succeed, and the more you earn the more we do to! In fact the entire 10Tier commission structure was designed to reward you MORE by helping others in your downline succeed!
We cannot guarantee that you will make a penny because we cannot guarantee that you will take advantage of this amazing opportunity. If you desire success and have been searching for an opportunity that will reward you like no other, you found it. We provide the services, platform, and best residual income referral program ever created that will reward you like no other!
You bring the desire to succeed and we will provide to you the best online residual income opportunity ever created.